I read the Nigel Barker's Book "Beauty Equation" and in one of his articles who wrote about women's body image. I found it so interesting that I would like to share with you, how the image of the womens body has changed in the past century.
Early 1900s
The Gibson girl was curavceous, with a small waist and large breasts, a cartoon look that real women achieved by wearing painful corset.
1920s
Loise Brook's showgirl look had little to do with fitness and more to do with style and personality.
1930s
High glamour was more important than bodytype - think Greta Garbo and Marlene Dietrich. Women didn't work out , they lounged on settees and drank martinis.
1940s
The pinup girl tended to be leggy and full-figured a la Betty Grable and Lana Turner. Men in the war trenches dreamed of real girls with real bodies that they could grab ahold of on a cold, lonely night.
1950s
Marylin Monroe, Jayne Mansfield, and Sophia Loren set the ideal look. Exaggerated feminity, impossible bit curves. People wanted goddesses, not women.
1960s
In an about-face in fashion trends. Twiggy's androgynous boy/girl stick figure took over as the standard, and suddenly beauty was truly in the eye of the beholder.
1970s
From Farrah to Fonda, women were fit but sexy, and girly and political. Black, Asian,exotic: Suddenly, it was anything goes. Women had come a long way and were ready to control their own image.
1980s
Healthy, exotic, worked-out Amazonian girls-next-door ruled the runway. From Cindy Crawford to Naomi Campbell, it was survival of the fittest.
1990s
Another 360- degree turn. Bored of the gym and ready to party again, heroin-chic beauties stormed the scene and waifish natural glamour was embodied in the image of Kate Moss. Suddenly every designer wanted that look.
Now and future
Trends change constantly.... what was hip today, can be so yesterday tomorrow.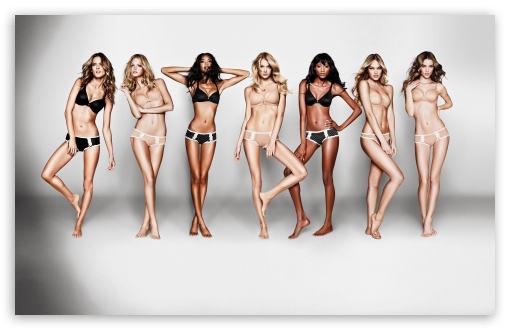 I hope for the future, that the girls will look healthier again ala the models from the 80s. I am just not to fond of the boyish look, and be honest girls, we all know that men are not fantasising about boys with boobs! Just pick up any lads magazine... and you will know for sure!
What look do you like and who do you want to see more of?
xxx Marina