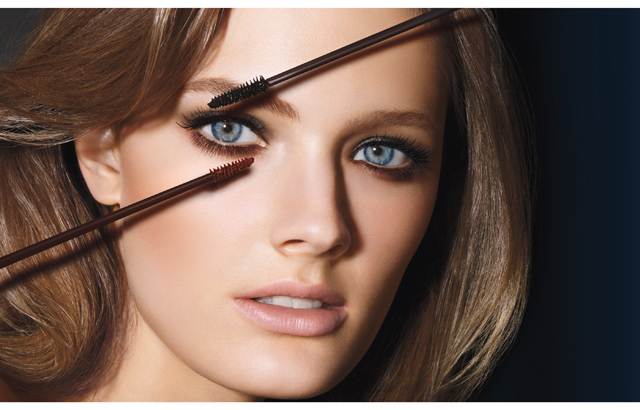 Renowned makeup artist and Estée Lauder Creative Makeup Director Tom Pecheux has created a breakthrough new mascara: the new Sumptuous Two Tone Eye-Opening Mascara.
Tom Pecheux says:

"I love eyes that are made up without looking too made up. This is a trick I've been using backstage and on ad shoots for years. The simple trick of using two different shades - darker on top, lighter on the bottom - works to really open up the eyes."
The double-ended mascara comes in three versions, each paired with Bold Black: Rich Brown, Rich Blue and Rich Plum. So basically with
two different shades and two different brushes in the one saves you investing in two mascaras and I think everyone should own at least a black and brown mascara. Brown is a great everyday shade that's less in your face than black.

And if you're are travelling a lot or planning to go on holidays, it will defo save you some room in your makeup bag.
As you can tell I have quite naturally long and curly eyelashes, but this mascara made them even look longer and thicker, and really, really black. I also loved the way the small brush reached almost every single lash on my lower lash line and also the brown color just subtly defined my eyes.
The Mascara lasted well thought-out the day and I didn't notice any smudging, and it also washed off very easy with a facial cleanser and didn't leave any smudges behind.
I think this is really a genius of mascara and I am in love with it. I even love it more than my Shu Uemura Natural Lash Mascara.
The Sumptuous Two Tone Eye-Opening Mascara cost here in Ireland € 32.
Have you tried it yet?

Did you like it? Please let me know :)